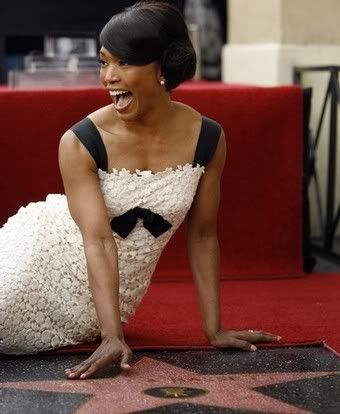 The Bassetthounds are always boasting of Angela's radiance on and off screen. Therefore we were more than proud on March 20th as Angela's star shined through when she received the 2,358th star on the Hollywood Walk of Fame.
"Who would have thought that a little girl in pigtails from St. Petersburg, Florida, would grow up to find herself gazing at a star with her name on it, on the Hollywood Walk of Fame? This day is so, so special to me."
Along with this being a well deserved honor, the praise she received from
Forest Whitaker
,
Rick Fox
and
Laurence Fishburne
(who opened with a leap of happiness) caused Angela to become emotional on her big day. "Do you ever have one of those days? When you wake up and the sun wasn't quite shining but then it bursts through the clouds and its glorious. When you smile out at people and every face you see smiles back at you? All you can say is hallelujah!"
Forest Whitaker
described Angela as "a powerful artist, a beautiful person, a mother, a wife, a friend who illuminates my life".
The twins were in attendance on their Mom's big day and nearly stole the show!
Giving thanks to fans, artists, friends and family including
Courtney
,
Bronwyn
and
Slater
who were there to share the unveiling, Angela expressed how honored and humbled she was. "I would like to thank all of you fans who have supported me in a steadfast, loving and respectful manner always. I am a fan of you."
We at Angie B News can only echo what was expressed by
Laurence Fishburne
, "Thanks for sharing your gift with the world."
Congratulations Angela!