Read the
First Truth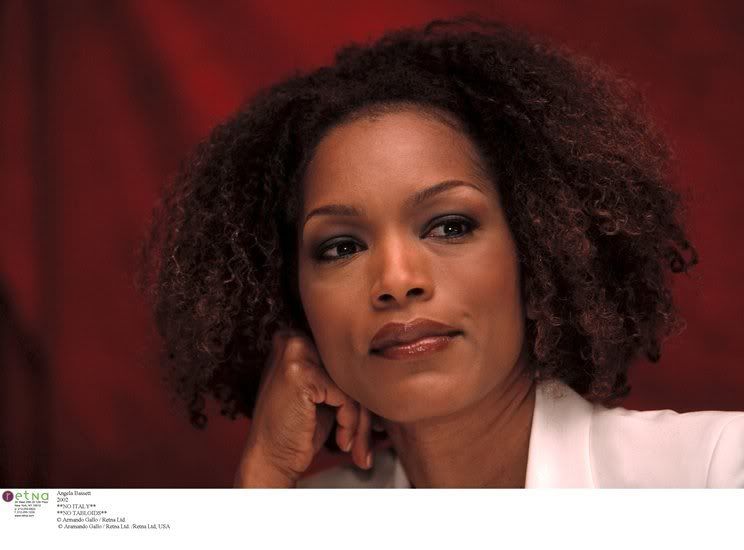 *Angela on her time in
Strange Days

"The kiss -- I was always looking forward to it. Ralph is kind of cute. We really didn't make any big deal out of it. You don't see too many interracial relationships or romances or buddies or whatever."
*Angela Bassett was actually scheduled and ready to play Storm in the first X-Men film in 1995, but there were two factors that led in Halle Berry nabbing the part.
It took so long for them to start production that by the time they were ready in 2000 Angela was off filming a little movie called Supernova *trying not to cry*



Rumor mill says that after an early re-write of the script that lessened Storm's role in the film, Angela backed out from the part
*Angela and Courtney talk about working together during the play, His Girl Friday:
Bassett has learned one thing about her husband. "He won't run lines with me," said Bassett without rancor. "I don't know what that's about, but he'll run lines with everyone else but me "

Vance: "Well, I learn my lines by blocking, by walking them out, and I don't have them down yet. You're catching us in the throes of rehearsal here, and we're still getting new lines."

*Angela on Journalists:
Playing a reporter in "His Girl Friday" puts Bassett in a somewhat odd position. Journalists, she said angrily, "win your confidence and then take you all out of context."

Bassett's biggest dustup with the press came after the news that she had been offered the lead in the 2001 movie, "Monster's Ball." After reading an early version of the script and realizing she didn't like the character, Bassett declined. Halle Berry stepped in, and eventually won an Oscar. The published article, flashed around the world, said Bassett had refused to play a prostitute.

Even now, all Bassett will say about it is, "I guess I know something about journalists."