Animated Bassett
Angela Bassett is feeling a bit better now that her flight has landed. However, munching on grapes and viewing the Chicago skyline from the window of her downtown hotel suite, she admits over the phone, "I was very ornery this morning."
The reason: As she began a cross-country tour to promote "Meet the Robinsons," the star of Disney's new animated feature had to leave her 14-month-old twins, Bronwyn and Slater, behind.
"They don't understand where you were and why you weren't there," says Bassett, 48. "They have their little personalities and attitudes, so when I get to go home, I'm ecstatic seeing them, yet it takes time to get back in."
Bassett's nurturing qualities have served her well in "Meet the Robinsons." She provides the voice for Mildred, the kindly caretaker of the orphanage where ingenious boy inventor Lewis spends the first 12 years of his life before he begins time-traveling adventures with the zany Robinson family. The young hero must overcome the nefarious villain Bowler Hat Guy, who rules the Evil Future, in the quest to find his family and move into the future to make a better world. It's up to Bassett's character to buoy the kid's spirit during the lonely early years, when adopting families keep passing him over for other orphans.
"This was an easy role to get into," Bassett says. "I thought about this special boy who wants so much to be a part of a family and is just looking for acceptance. That really tugs at your heart. Mildred sees his uniqueness and has this desire to keep his little spirit hopeful."
"Meet the Robinsons" is Bassett's first animated feature, though she did voice an elephant on an earlier short-lived Disney project .
"I worked on a live-action thing called 'Whisper' years ago that never saw the light of day," she says, laughing. "They followed elephants for a year, then put voices to that. It was a very interesting concept. I was the mother elephant. I was Whisper's mama. I guess I must have maternal bones in my body."
Like Lewis, who persists in his dream, Bassett rates perseverance as one of her key attributes. She galvanized audiences in 1993 with her Oscar-nominated performance as Tina Turner in "What's Love Got to Do With It," and subsequently starred in vehicles including "How Stella Got Her Groove Back" (1998) and "Akeelah and the Bee," her third film with Laurence Fishburne. But Bassett has also turned to theater to find the kinds of challenging roles sometimes missing in Hollywood movies. Last year, she appeared with Fishburne in a critically successful Los Angeles production of August Wilson's "Fences."
"It is frustrating," Basset says of the dearth of good film roles for mature actresses. "And it is also the nature of an actor be frustrated in that, even if you're working: Where's the next job? Your career course goes through its cycles, its ups and downs. Gender and race and age, all those things come into play and intersect at some point. Those are things you have no control over, yet they color the landscape. There have been great highs and a few disappointments, but all in all it's been a fabulous journey."
Bassett recounts that journey in "Friends: A Love Story," an autobiography she co-authored with her husband, actor Courtney B. Vance.
"It's about the transformative power of love, of yourself first, love of community, love of your craft, love of God, love of your children," she says. "I talk about various experience trials, positive or negative, that went into making me who I am."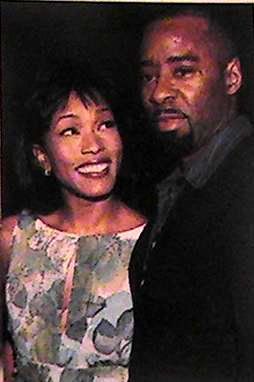 The book, published on Valentine's Day, describes Bassett's experiences growing up poor in St. Petersburg, Fla.; the mentor who encouraged her, at age 15, to apply to Yale University (she got in); and dealing with an excruciating spinal cyst that impeded her progress at school. Bassett also writes about discovering firsthand just how dramatic family dynamics can be. Attending the funeral of her father, she recalls, "I was literally tapped on the shoulder and introduced to a sister I never knew I had.
"Here's a sister you didn't have a clue about, you never heard a word about it. For me as an actress, I thought that was so interesting. So human. It's, 'Oh my God, we're just so fragile and crazy, the things we do, and the places our lives take some of us.' My younger sister, of course, who is not an actress, was very upset."
Bassett says she's looking forward to returning to the stage more frequently, including a possible Shakespeare production at Minneapolis' Guthrie Theater. She also hopes to team with Danny Glover on "Toussaint, " in which she'll play the wife of a rebel slave leader.
"Even at this point in the journey, I'm still enthused about the acting, about what's around the next corner," she says. "I get crazy when I lose a role, and I'm ecstatic when I win one. From the beginning, I've always had a resilience, which is useful in this business, since so much of it is out of your hands. What is in your hands is how you develop your character and what you bring when you show up on the set."