For Ms. Candace, per request:
Sweet
L
O
V
E
THE WIFE

-an award-winning actress-arrived first. Dressed in jeans and a lime green Nike sweater over a white T-shirt, she looked a bit harried. It was laundry day for the mother of baby twins and well, you know, it aint easy being superwoman. Especially when you arent able to leap tall high chairs in a single bound.


THE HUSBAND-an awar-winning actor-arrived minutes later wearing jeans and a long-sleeved polo shirt. He was seemingly calmer than his mate, but you got the feeling there was no visible "S" on his chest either. Rearing babies in your forties despite the help of nannies and grannies is no joke.

But in less time than it takes to change a diaper Angela Bassett and Courtney B. Vance were so in sync with each other that it was difficult to imagine they didnt possess super powers. Seated in the lobby of a five-star Beverly Hills Hotel, the couple talked about their twins who recently celebrated their first birthday, their relationship and their new book, Friends: A Love Story, which hits book-stores this month.

*Read the middle part of the article here*
ANATOMY OF A RELATIONSHIP
Excerpts from Friends: A Love Story

THE FIRST DATE


CBV:

"Hey you want to go out?"


AB:

"Oh, OK. Yeah."
The follow-up note attached to the second date hand-printed thank-you-for-a-wonder-ful-evening-flowers


CBV:

"I like you. Do you like me? Check one--yes, or no."

THE FIRST KISS


AB:

"It was truly reminiscent of my first puppy-love kisses. I got pinpricks and chills up the back of my thighs and across my butt, up my neck, across my scalp---everywhere!"


CBV:

"That kiss was amazing! I was giddy! I think I floated home!"
"That first date didnt go well," he added. "I drove over to her house in my white Honda station wagon and was going, 'Oh boy, how am I going to get out of this?"
It took about a year for them to go out on a second date--to a driving range. By the third date they were finishing each other's sentences and soon afterwards the bombs finally began bursting in mid air. In 1996, on the same night Vance and Bassett came out as a couple at
The Preacher's Wife
premiere in New York City, Vance got down on one knee and proposed. "I had finally gotten all of that other stuff about shes my friend and what good could come of this out of my head and realized this is the woman of my dreams. And, she's also fine!"
Adds Bassett: "I would find myself lighting up like a 200-bulb Christmas tree whenever he would call or come over. So, I knew that was a sign that this was something right. I remember telling him before we got engaged that I wanted to have children with him and it was rare for me to say something that exacting."
In October 1997, the couple, who abstained from sex until saying their "I do's," married at the home of their Hancock Park (an upscale Los Angeles neighborhood) neigbor, the late Lou Rawls. And, they became first-time parents last year when twins Bronwyn-Golden and Slater Josiah were delivered through a surrogate because of Bassett's difficulties in carrying a child to term.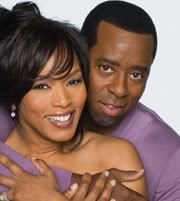 Currently neither parent has taken on the role of head disciplinarian, but Bassett senses that her mate might be better suited for the part at this point.
"He talks a good game right now, but we'll see," she says with a smile. "It could fall apart! We try our best to not be enamored by how cute they are or let them drive a wedge between us."
Like most rookie parents, Vance and Bassett want to share every little detail about their children. Bronwyn, according to her mother is very focused and determined. She can sit and marvel at something as simple as a rubber band for 20 minutes. Slater, however, is just the opposite, says Dad.
"He's all over the place," says Vance. "He's all boy." But while they love their kids and the joy they have brought to their lives, Vance and Bassett-who are both devout Christians-realized that they still have to "baby" each other to keep their marriage "simpatico" through communication and prayer.
Bassett tends to be more methodical in her thinking, which means she'll take her time processing a situation. Vance doesnt like to let things simmer. He seeks immediate solutions to conflicts. Both, however, realize that someone has to be the first to apologize.
"There's got to be shalom in the home," they echo in unison before high-fiving each other. "There has to be peace in the house," Vance continues. "I dont like clouds. God is nowhere near a situation where there's not forgiveness. I'm not saying we know the secret to marriage..."
"We're still trying to figure it out," Bassett interrupts. "There are so many experiences you go through as an adult. As an actor in L.A. you're navigating through celebrity and all that that brings, your career ups and downs and trying to keep your mate happy. You have to communicate . We still go at it!"
Through Bible study Vance realized early on in the marriage that he not only needed to be a servant to God but also to his wife. "Two people need to find ways to do for each other and the only way you can do that is through communication," he says. "One of the first things I think about when I get up in the morning is how can I help her, what can I do? Thats the example I saw with Ruby (Dee) and Ossie (Davis). They always wanted to do for each other. Somebody has got to be selfless. Thats when the relationship changed-when I started doing little things for her."
Vance's chivalrous approach to marriage made it easy for Bassett to go from independent single woman to committed wife. For Bassett, every day is Valentines' Day-especially since she's married to a man who sends flowers just because.
"This is a man who wants to do everything within his power for me," she says. "If we're in a situation and he wants to do something and hasnt checked with me, hes not going to do it until he talks it over with me. Hes that knight in shining armor. He's a man with good sense."
Notes Vance: "She's not going anywhere without me and I'm not going anywhere without her. My focus is (my wife) and if I see I'm doing something thats upsetting her, I stop. We aint going to fall out over anything. We have a needed discussion."
"This is the challenging stage. In the book we talk about what you do after the honeymoon is over. We're still in motion but its good that I've got somebody who is on it and who realizes that the work never ends and that its all about balance."